PINEIDER, L'ATTITUDINE ALL'ELEGANZA PER L'UOMO 2022
La storia di Pineider ha inizio 245 anni fa in un negozio, una cartoleria che Francesco Pineider, il suo fondatore, sceglie di inaugurare nel centro di Firenze nel 1774. Francesco, come un pioniere, lascia la Val Gardena per trasferirsi in Toscana, introduce tecniche d'avanguardia, perfeziona le stampe, lavora sui caratteri e i rilievi, realizza articolati stemmi e monogrammi incisi a mano.
Con il passare del tempo alla carta si affianca la pelletteria, avvalendosi della grande tradizione toscana e allo scadere del primo secolo dalla sua fondazione, si aggiungono gli strumenti per la scrittura.
Per arrivare ai giorni nostri, durante la settimana della Moda Uomo a Milano appena conclusa, nella Boutique di Pineider in via Manzoni 12 sono state presentate le novità per la stagione primavera-estate 2022. Pineider si interroga: cos'è l'eleganza? È attitude, la predisposizione al gioco dei dettagli, per definire la propria esistenza nel tempo e con consapevolezza. L'immobilità imposta rappresenta uno stato di quiete sconosciuto all'uomo contemporaneo, ridefinendo spazi e aspirazioni.
L'eleganza simboleggiata dal nero è misteriosa, ma determinata e di carattere. La vera novità SS22 è racchiusa nella linea Metro di Pineider, dove il nero eccelle: qui l'immaginazione viaggia sui binari della città instancabile, in un paesaggio urbano dove viaggio e praticità occupano lo stesso posto. Il giovane business man si distingue nella decisione con cui sceglie una pelle soft, oppure il nylon super tecnico morbido e avvolgente: ha bisogno di stabilità e sicurezza, di emergere al di là di ogni accessorio. I manici delle due nuove tote bag sono importanti e strutturati, la doppia cucitura ricorda l'articolarsi delle vie della prossima metropoli in cui si troverà.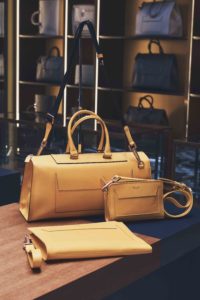 La serie Avatar si arricchisce con una proposta more black, dove le penne nero su nero monocromatico esplorano sia l'eleganza lucida, che matte. In versione penna stilografica, roller o a sfera, il materiale selezionato si compone di madreperla e resina, l'UltraResina, materiale creato in esclusiva Pineider molto rigido e resistente agli urti e agli agenti esterni. Inoltre grazie alla progettazione 3D e all'altissima precisione della produzione, le penne sono assemblate come un puzzle tecnologico, senza l'utilizzo di colle.
Non manca il colore nelle proposte primavera-estate 2022: le iconiche linee 360 e 720 assumono la pienezza del ginger orange e del senape, ripartendo dalla scoperta dei volumi morbidi e dei dettagli, contrapposte alla compostezza della serie Empress. La linea 360, in pelle italiana di vitello bottalato, incarna il business man al confine con il casual e la voglia di libertà; parla di una quotidianità in movimento, che passa dalla settimana lavorativa al weekend attraverso le nuove duffle bag, shoulder bag e il versatile backpack. La linea 720, in pelle di vitello con stampa "mini franzy obliquo", raffigura la classicità maschile e moderna allo stesso tempo, abbracciando nuove forme e dettagli nella pouch, nel porta documenti e nella sacca da viaggio. Entrambe presentano interni estremamente organizzati, per poter rispondere alle esigenze quotidiane e personali.
A partire dalla grafica della serie Empress della carta da lettere, si introduce la linea Empress nei toni del grigio-blu, dove il rigore delle buste si replica sulla pelle morbida nel manico e con dettagli uniformi in tinta unita.
Nel corso della presentazione alla stampa, sono intervenuti Sandro Tiberi per la paper experience, il tatuatore Stizzo da Best of Times Tattoo per il live painting e l'illustratrice Charlotte Le Bleu per il live sketching, a raccontare il mondo delle passioni personalizzate del brand fiorentino.
Pineider si conferma con questa collezione un'eccellenza dell'artigianalità e del Made in Italy, con un prodotto di altissimo livello, elegante e up to date.
---
---
---