BEAUTY TALK: Backstage della sfilata Ermanno Scervino P/E 2016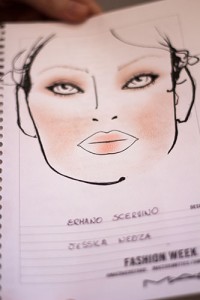 Ermanno Scervino è sempre sinonimo di eleganza e su questa linea si pone anche il beauty look realizzato da Jessica Nedza per MAC Cosmetics.
La makeup artist ha scelto un look estremamente femminile e sofisticato, tutto giocato sui toni del rosa e del prugna, colori che si sposano perfettamente con gli abiti dai toni delicati e col pizzo della collezione dello stilista. Un look elegante ma allo stesso tempo molto sensuale. È stata realizzata una sorta di smokey eye sui toni del prugna con un finish luminoso. L'ombretto è stato sfumato con un nuovo kajal, sia sulla parte superiore dell'occhio che nella rima interna inferiore per creare un effetto cat-eye. Uno smokey eye molto classico, completato da numerose passate di mascara. I toni caldi e rossastri del prugna mettono maggiormente in evidenza il colore dell'iride, rispetto al tradizionale nero.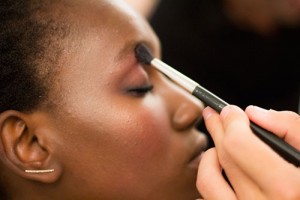 Per quanto riguarda la base, anche Jessica Nedza segue il trend della pelle luminosa. Pochissimo fondotinta e coprenza leggerissima per dare maggiore spazio all'effetto glowing. La makeup artist ha infatti creato numerosi punti luce molto evidenti, grazie all'illuminante in polvere Mineralize Skinfinish Soft and Gentle. Le guance si tingono di toni caldi, come a mimare l'effetto del sole sulla pelle, grazie a un blush dal tono naturale rosa-pesca. Anche per le labbra si prediligono colori tipicamente estivi e pescati. Il finish è matte, il prodotto utilizzato è un rossetto liquido Retro Matte di prossima uscita nel colore Lady Be Good, un nude caldo.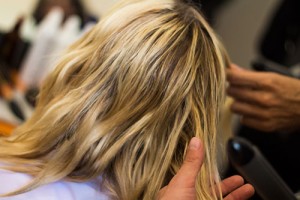 L'hair styling è curato da Paolo Soffiatti per Oribe. L'ispirazione è un capello molto naturale ma dalla texture consistente. È stato utilizzato il prodotto cult Maximista Thickening Spray come preparazione, in seguito i capelli sono stati asciugati, spazzolati e mossi con un ferro. Sono poi stati rifiniti con il Gold Lust e infine con una spruzzata di Shine Light Reflecting Spray, per ottenere il massimo della definizione delle ciocche e della lucentezza.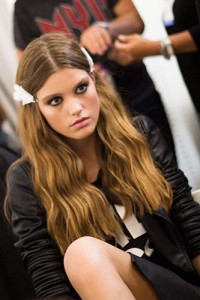 La nail art è a cura del bravissimo Antonio Sacripante, per Morgan Taylor. La parola chiave per questa collezione è sobrietà. Si è quindi scelto di mantenere un certo rigore e, dato che qualsiasi colore avrebbe stonato con gli abiti, si è scelto un color nude da usare in coordinato. L'effetto è un lattiginoso sui toni del rosa caldo, semplice ma estremamente elegante e di grande effetto.
---
---
---