BEAUTY TALK: Backstage della sfilata Elisabetta Franchi P/E 2016
Da Elisabetta Franchi il look beauty segue il trend dell'ultima stagione: la bellezza non è un'ossessione, ma è un mezzo per esprimere la propria identità nella più totale naturalezza.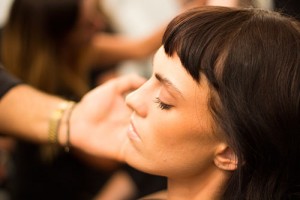 Il makeup è curato da Michele Magnani, Senior Artist di MAC Cosmetics, e dal MAC Pro team. Come ci ha spiegato il makeup artist, hanno cercato di ideare un look pensato per una ragazza che ha trascorso la giornata all'aria aperta, dove l'abbronzatura accarezza la pelle senza però bruciarla rendendo il tutto troppo artefatto. Sul volto si è cercato di esprimere una voglia di libertà, grazie a un effetto di highlighter molto evidente per illuminare lo sguardo e realizzato con un vecchio classico di MAC, l'ombretto in polvere Ricepaper. Si è poi giocato con varie tipologie di texture, per creare un'ombreggiatura dorata nell'angolo superiore e inferiore esterno dell'occhio, grazie al Paint Pot Indianwood, a voler mimare la luminosità di un raggio di sole che bacia la pelle.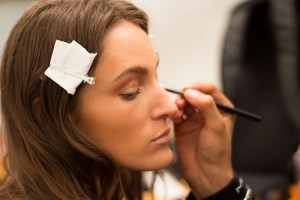 Ovviamente, il trucco del viso è importantissimo. Un risultato naturale non significa una pelle meno perfetta. L'effetto qui ricercato è un sano sunkissed look, è importante sottolineare come non sia una pelle irritata dal sole. È stato utilizzato lo Studio Waterweight Foundation in varie tonalità: sulla zona dello zigomo e della tempia è stato steso un NC44 per le ragazze pallide, quindi molto più scuro del colore naturale della pelle, per poi andare a fondersi con il fondotinta del tono esatto della pelle. Per accentuare l'effetto bronzing, è stata aggiunta la BB nel colore Refined Golden, senza ricorrere alle terre in polvere. Per scaldare le guance è stato infine usato un colore pensato come rossetto, dalla Trend Forecast Lip Palette per la Primavera Estate 2016. A completare il trucco, highlighter in crema, sopracciglia importanti con effetto lucido, mascara sopra e sotto e sulle labbra sono state stratificate texture matte e glossate in toni naturali. Tutte le ragazze hanno poi avuto un body makeup, con il fondotinta Face and Body nel colore C7  miscelato con il Mixing Medium Alcohol Based per una tenuta estrema.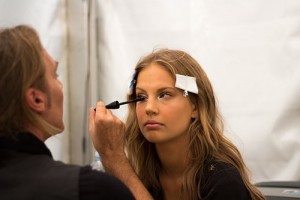 Paola Sacripante di Nail and Beauty per Morgan Taylor ci ha invece spiegato come è stata realizzata la manicure, davvero raffinata e, allo stesso tempo, molto particolare. Si è voluto proporre una linea di continuità con il makeup.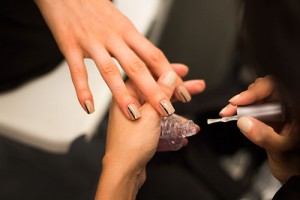 I truccatori hanno scelto una linea molto geometrica e quindi si è cercata una omogeneità tra il trucco e le mani. Un design geometrico quindi, su una base color incarnato a effetto lucido, si è creata una linea verticale laterale verso l'esterno. Vuole essere un gioco in contrasto con il mood della sfilata che è più tribale.
---
---
---